Intro
ClimaPac

ClimaPac, air handling for your comfort applications

STULZ Tecnivel plays an active part in the customization of every quotation and prescription by undertaking preliminary studies, providing advise that will allow you to define a tailor made solution for your needs. We offer comprehensive and customised air handling units for each type of facility.
The most prestigious firms in the world choose us, and our Air Handling Units can be found in the best-known hospitals, airports, hotels, offices, schools, public buildings, wineries, banks, industries and a long list of other applications, because we adapt to your needs by customizing your facilities.

Benefits
Benefits
Flexibility

50 standard sizes

Modular layout

Adapting to all your needs

Energy efficiency

State-of-the-art components

Clean air

Different filtering solutions

Comprehensive control

Optimised operation

Sandwich panels

45 mm thick

Rockwool insulation

100 kg/m3
Product Information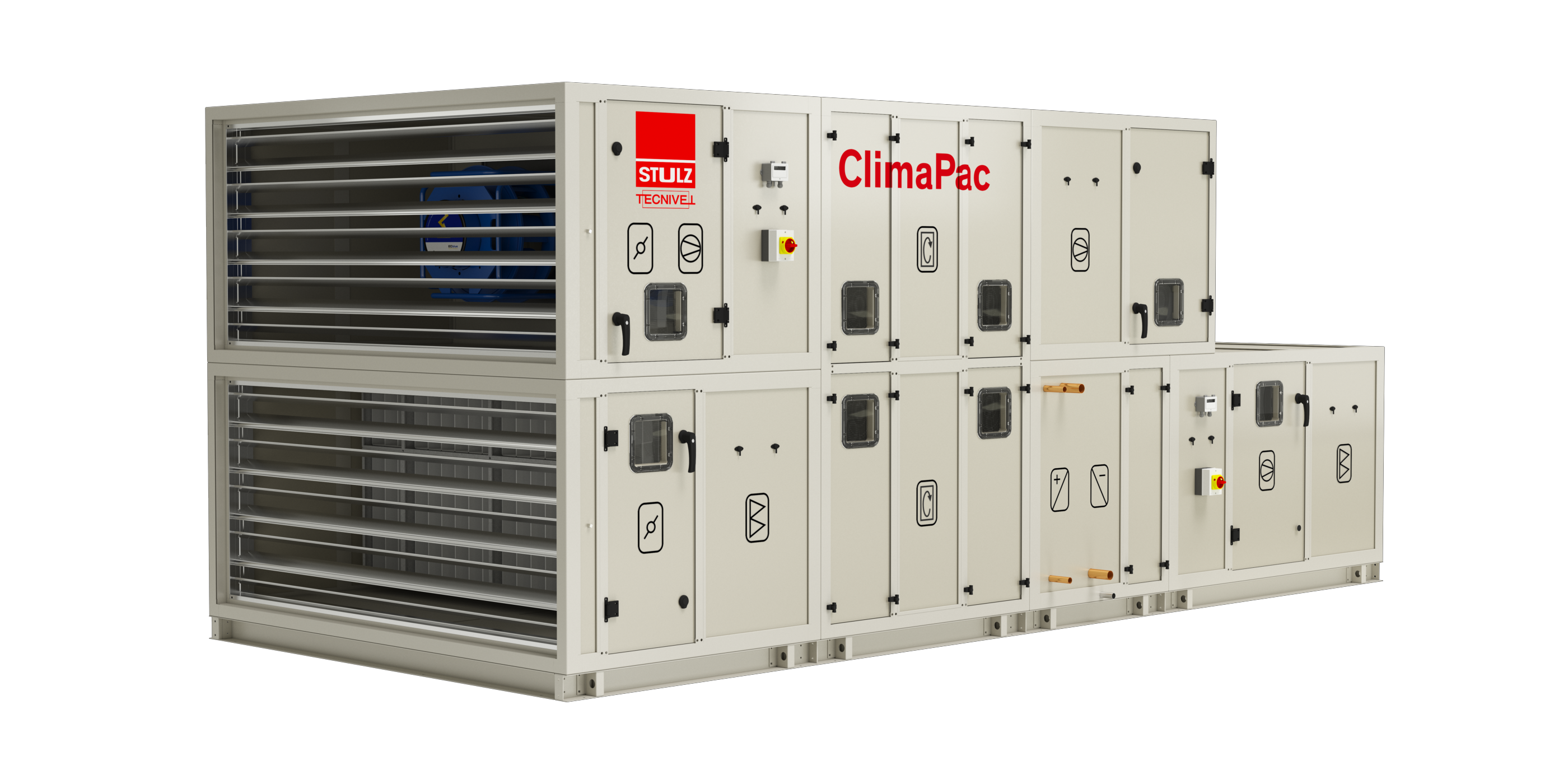 Product Information
Casing

The thermal break system casing assures, composed by an aluminum frame and double-skin panels, high classifications according to the EN1886.

Roof

Made from coated galvanized steel and design to ensure full-drainage.

Insulation

Rockwool with a density of 100 kg/m3 45mm thickness.

Frame

Extruded aluminum with thermal break system allow to hold the panels without the use of screws. Coated in RAL7044.

Corners

Made from nylon (polyamide) they serve to join the main aluminum profiles and assure thermal break. Color RAL7044.

Handles

Made from nylon they are a key piece in order to guarantee maximum leakage class according the EN1886.

Panels

Double-skin, 45 mm thickness, rockwool insulated Both skins are pre-coated galvanized steel sheets RAL7032. Euro class to fire reaction A2 (s1, d0).

Inspection windows

Square inspection window in transparent, impact-resistant polycarbonate. No fastening hardware on the inside ensure perfect thermal breakage.
Components & Controller
Applications