STULZ Micro DC

Scalable and self-sufficient all-in-one solutions for IT capacities – from office to data center

Micro Data Centers from STULZ are a cost-effective way of providing scalable IT resources that precisely target your needs, upgrading existing critical infrastructure, or simply providing additional computing and storage capacity at the edge of your network (edge computing).
The STULZ Micro DC is a cost-efficient solution that delivers scalable, demand-driven IT resources, upgrades existing critical infrastructure or easily installs additional computing and storage power
at the edge of your network.

Retail & Branch Office

Finance

High Performance Computing (HPC)

High-density cooling

Server room optimisation & consolidation

Industry 4.0

Traditional DC or Austere Facility

Edge to DC on demand
Features & Benefits
Fast configuration and delivery

Suitable for non-data centre environments

"Drop-in" solution (quick to install and easy to expand)

19" standard rack available in three different heights and two different depths

Incomparable level of scalability with modular cooling configurations

Industry leading direct liquid-to-chip cooling for highly dense IT workloads

Each device is individually configured, tested and delivered

Configurable UPS

Worldwide sales and service network
Two versions and four rack sizes
The STULZ Micro DC is a 19" standard rack that is available in three different heights (40, 42, 45 and 48 U) and two different depths (1250 mm and 1450 mm). Availability depends on your region and can be determined using the configurator.
---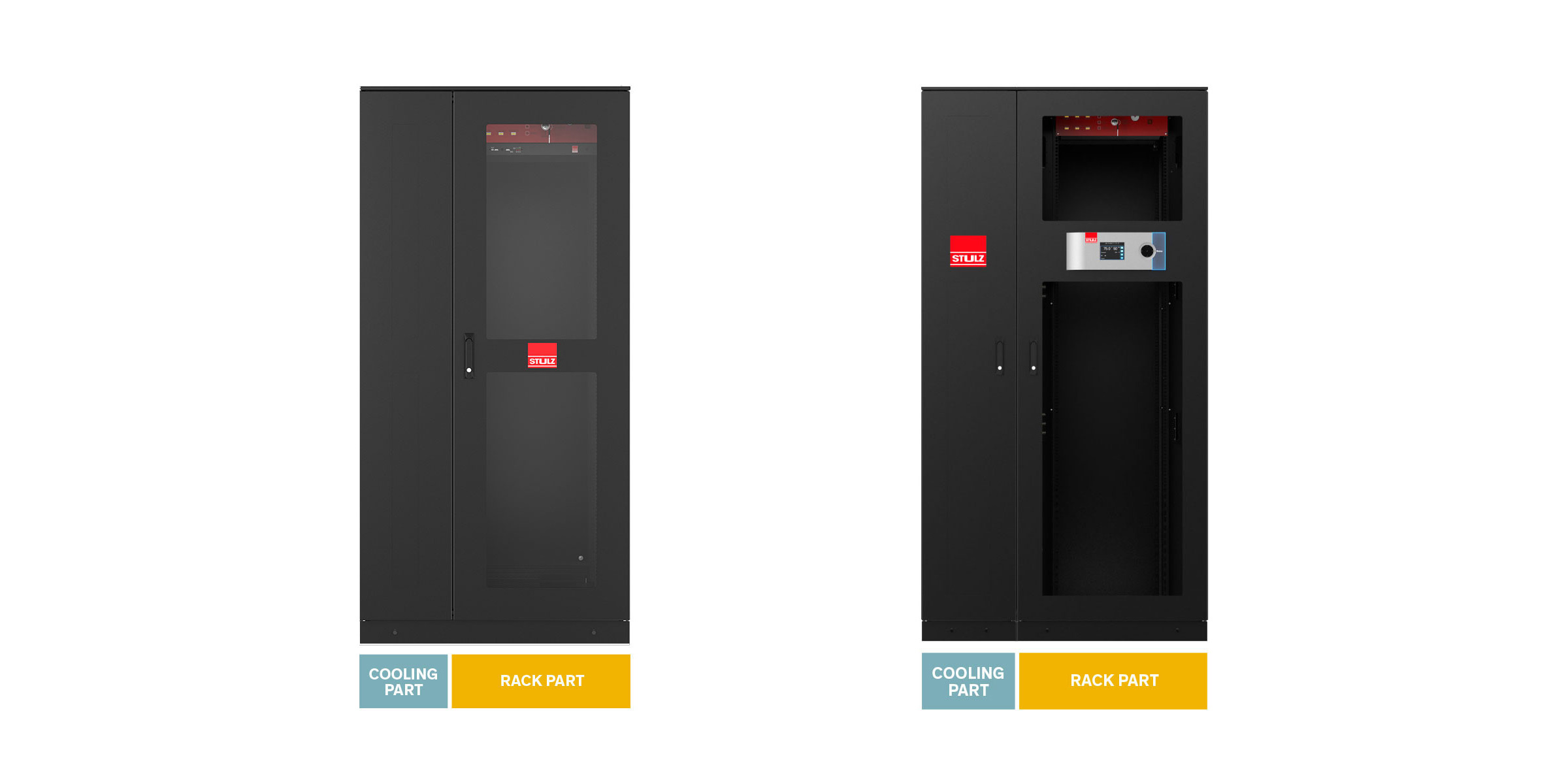 19" Standard rack with two external dimensions
Height

Width

Depth

600 mm Rack

800 mm Rack

40U

1,970 mm

1,000 mm

1,200 mm

1,250 mm

42U

2,068 mm

900 mm

1,100 mm

1,200 mm

45U

2,149 mm

1,000 mm

1,200 mm

1,250/1,450 mm

48U

2,282 mm

1,000 mm

1,200 mm

1,450 mm
Scalability - Grow with your requirements
Traditional data centres and server rooms often need to be planned years in advance. Costly restructuring is not uncommon. The STULZ Micro DC offers an incomparable level of scalability that makes it possible to grow with the requirements. Depending on the requirements, the STULZ Micro DC can grow from a 1-rack configuration with 3 kW to a multi-rack configuration with a heat load of up to 80 kW per rack. The STULZ Micro DC can thus drastically reduce your investment costs in IT infrastructure.
1-rack configuration