Data Centers: It's all about Connection
Virtual communication has always been useful in business and personal communication but the last few years have made it even more vital as we conduct business and stay in contact with our loved ones. This is clear when we look at how the data center industry continues to expand.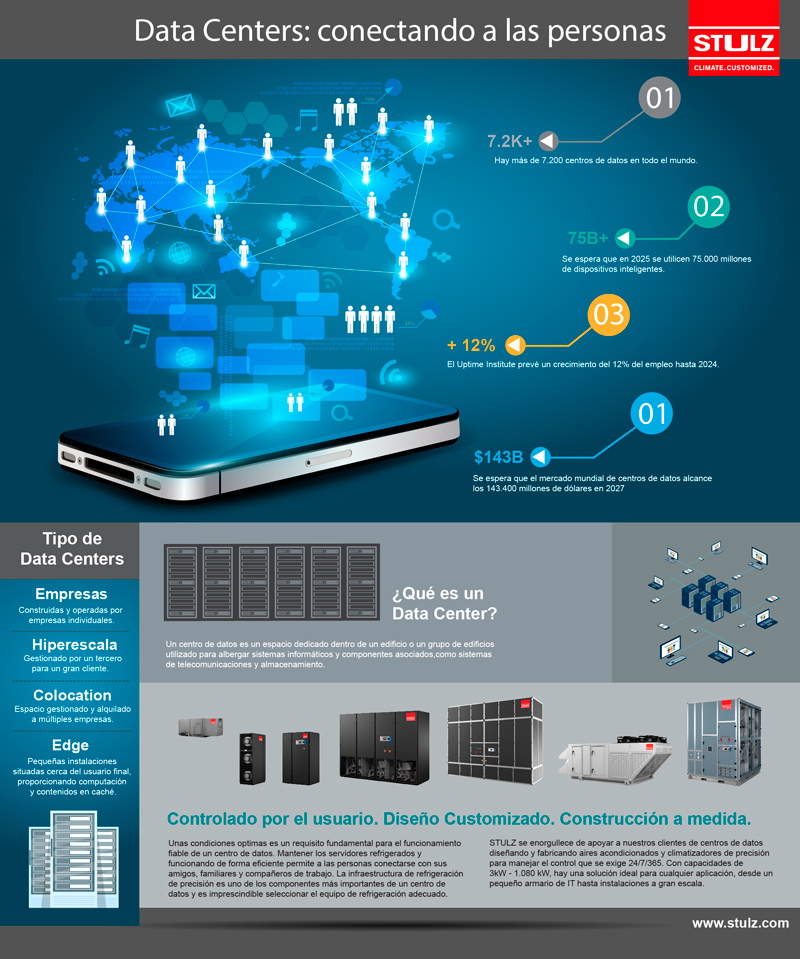 What is a Data Center?
A data center is a physical space where IT equipment (racks, servers, etc.) and critical infrastructure (precision cooling, fire protection, etc.) is housed. Data centers can be housed in an entire building, large rooms, small closets, and stand-alone modular containers.
What Types of Data Centers are there?
There are four main types of data centers:
Enterprise
Hyperscale
Colocation
Edge
Enterprise data centers built, owned and operated by individual companies and are often housed on a corporate site. In comparison, Hyperscale data centers are data centers that managed by a 3rd party for a large customer.
Colocation data centers are owned by a 3rd party and equipment and spaces is rented out to multiple companies. Finally, there are Edge data centers. Edge data centers small data centers, often housed at telecommunications towers and they offer cloud computing and cached content. An Edge data center is meant to deliver faster service, closer to the customer. This is a fast growing data center in the industry.
With an estimated 75 billion smart devices in use by 2025, Edge data centers become vital to keeping customers connected.
How does STULZ support data centers?
An optimum climate is a prerequisite for reliable operation in a data center. Keeping the servers cooled and running efficiently allows people to quickly connect with friends, family and business colleagues. Precision cooling infrastructure is one of the most important components in a data center and it is imperative that the right cooling equipment is selected.
This is where we come in!
We are proud to support our data center customers by designed and manufacturing precision air conditioners and air handlers. Although we are a global company with about 7,000 employees worldwide, we understand that our customers needs are unique and we have subsidiaries around the world to support customers on a local level.
STULZ USA supports customers in the U.S.A. and Canada and we have made it our mission to engineer and manufacture solutions that work for each customer. For many data center owners and engineers this means using one of our tried and true solutions. These have been tested and proven over the decades. For other customers, who have more unique requirements, we engineer custom air handlers for their specific requirements. We are truly user driven, with custom designed equipment that is purpose built.
We offer capacities from 3kW - 1,080 kW so whether it's a small IT closet or the largest hyperscale facility, we have your covered!
If you want to see all of our solutions, visit our product pages here.
To learn more about the data center industry, join us for our Tuesdays @ 2pm webinar series, where we discuss various industry topics.
Press Contact
Please choose your contact
For press information please contact:

STULZ España, S.A.

Calle Carabaña, s/n,
28925 Alcorcón, Madrid (Spain)

Tel: +34 915 17 83 20

info@stulz.es
More contact options